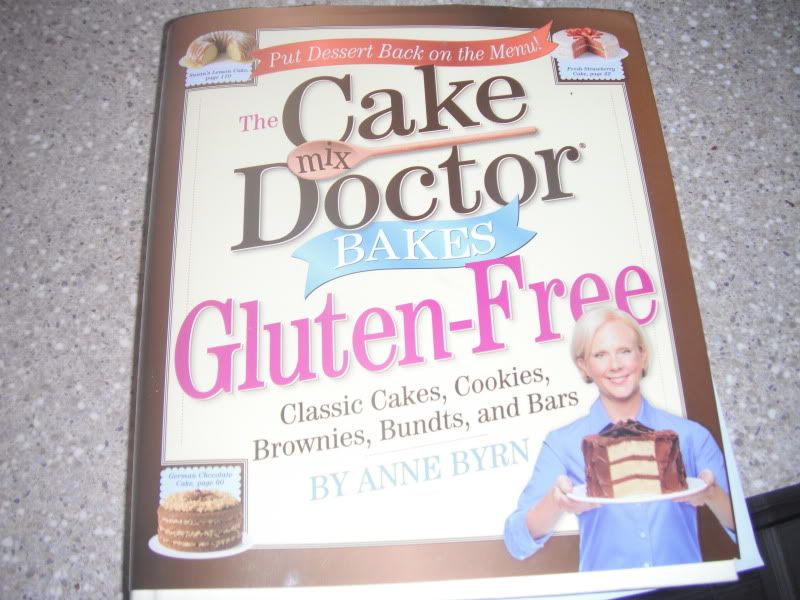 At Christmas a dear friend of mine bought me a cook book called "The Cake mix doctor bakes Gluten Free" by Anne Byrn.
Today I decided to try out a recipe and we were very pleasantly surprised, they had good flavor, texture and looked like a peanut butter cookie.
Here is the recipe
1 package (15 ounces) yellow gluten-free cake mix
2/3 cup creamy peanut butter
6 tablespoons (3/4 stick) butter, at room temperature
1 large egg
2 tablespoons milk
2 tablespoons pure vanilla extract
1/4 cup granulated sugar
Place a rack in the center of the oven and preheat the oven to 375 degrees F. Set aside 2 ungreased baking sheets.
Place the cake mix, peanut butter, butter, egg, milk, and vanilla in a large mixing bowl and beat with an electric mixer on low speed until the ingredients just come together and the cookie dough is smooth, 45 seconds. The dough will be stiff. Place the sugar in a shallow bowl. Form the dough into 1-inch balls. Roll each ball of dough in the sugar and arrange 12 balls on each baking sheet 2 to 3 inches apart. If desired, press down on the balls of dough twice with a fork to make the classic cross-hatch pattern.
Place the baking sheets in the oven and bake the cookies until golden brown, 10 to 12 minutes. Using a metal spatula, immediately transfer the cookies to wire racks to cool completely, 15 minutes. Repeat with the remaining dough.
http://www.cakemixdoctor.com/recipe/gluten-free-peanut-butter-cookies/
I made some adjustments to the recipe to make sure it was Gluten and casein free
This is what E thought of the cookies, we will definitely be baking these again. Dad didn't even notice that they were GF.